The Sault Star Newspaper, Weekender section, Saturday, April 14, 2007.
Patricia Baker - Special to the star.

CUTTING WITH A CONSCIENCE

Metis logger Michel Blais prides himself on selective harvesting, or what he dubs 'plucking the forest'. As correspondent Patricia Baker discovers, he's not alone.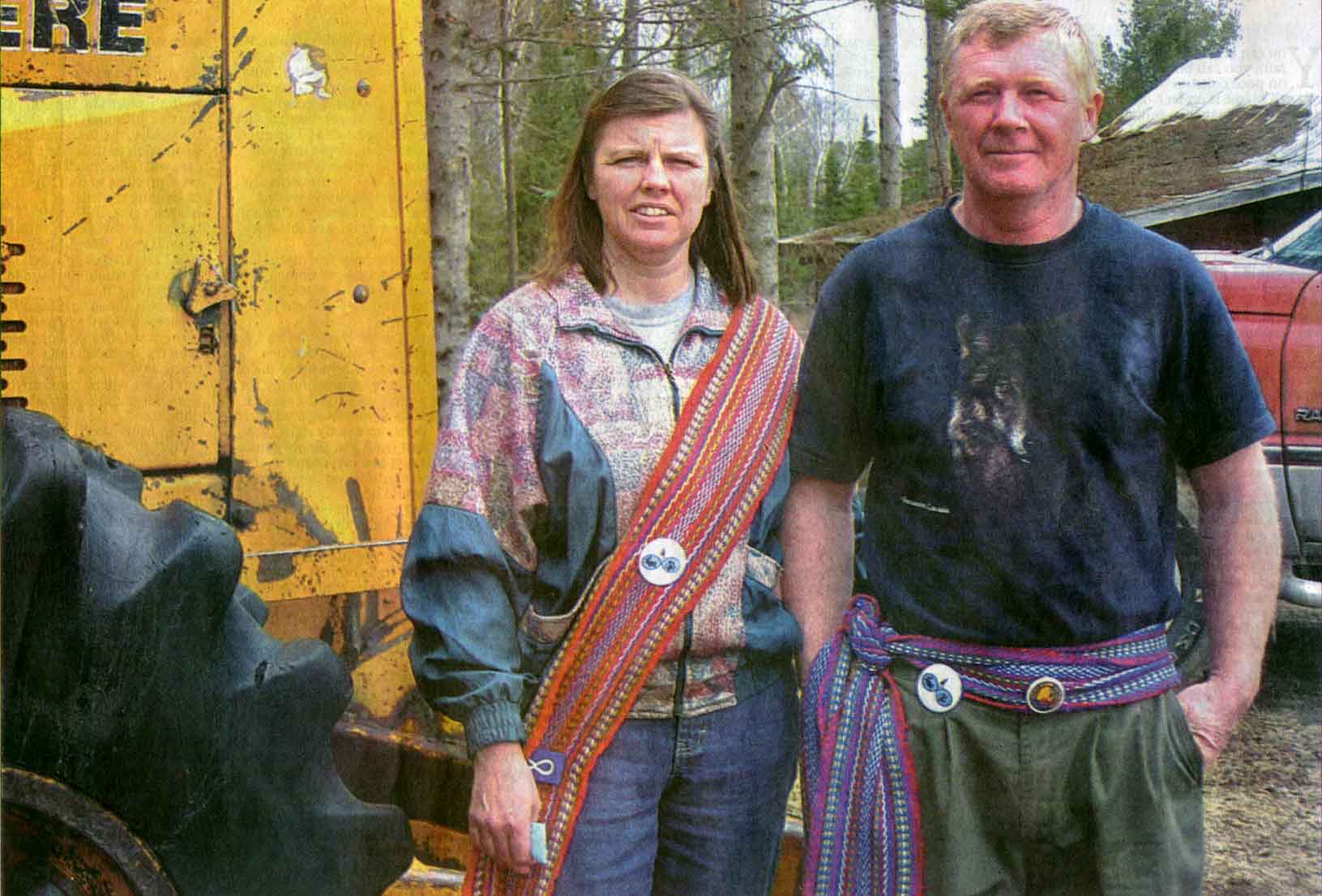 Michel Blais has witnessed, first-hand, the "beauty and the beast" practices that play out in the logging industry.

Blais, 47, a Metis who earns his living in the sector, lives in the Whitman Dam Road area near Searchmont Ontario. He is also chairman of the Algoma Metis Loggers Inc., a group of men and women whose mandate it is to promote sustainable forest management that protects the future of Algoma forests.

Clear cutting does not exactly cut the mustard with Blais.

"It's inconceivable that a healthy forest could be clear cut without conscience," Blais said in a recent interview.

"Drastic cutting practices can present catastrophic consequences." he added. "A forest can take 75 to 100 years to come back."

This doesn't take into consideration the damage to wildlife habitat and their paths of migration.

Blais practises selective harvesting by "plucking the forest" or thinning it out.

"Logging and forest management are in my blood, I was born into it and I'm proud." he said.

He and his family work a small 440 John Deere skidder, which, he said, "causes minimal damage to the forest floor." He then hires a truck and driver to take the harvest lo the buyer.

Blais's selective harvesting is a tradition passed down from his ancestors.

"Our woodlands are very sensitive and the trees are the 'lungs of the earth."

He's accustomed to taking only 25 per cent of the hardwood stand every 20 years in the hardwood and 10 years in the softwood, so there can be a high level of sustainability.

Born in Sherbrooke, Que., Blais and his 11 siblings learned about logging as a traditional fact of life.

"My dad worked hard logging with horses, just so we could eke out a living." he said.

Opportunities started drying up there, so the family moved to the Searchmont area in 1970. "We followed the pines."

"I started logging when I was 15, and we lived off the land, wasting nothing."

It was a hard life, but the family respected what the land had to give them.

"I am proud of my ancestry, which includes Mi'kmaq, Huron and Algonquin blood."

His wife is of Ojibwa blood, and was born into the logging tradition by virtue of her family's industry connections.

Both Blais and his wife, Louise, are trappers with lines in and around the Whitman Dam Road and Wabos areas. From a trapping point of view, the couple contends that if forests are managed with respect, wildlife and wetlands will be perpetuated through future generations.

"It only makes sense;" he said. "Trapping can not survive if forests are not cared for properly."

Blais said woodlands protect wildlife, such as moose and deer, so their sustainability is crucial. Erosion damage in spring isn't a problem in forests that have been pruned. If the canopy remains relatively intact, the forest floor is sheltered.

"When forests are pruned or thinned as opposed to drastic cutting, they rejuvenate naturally." he said. "You nurture what you have.. . . It will give back tenfold and be around for generations."

The couple, along with their, two sons and one daughter, has seen the downside of trying to make a decent living in an industry they argue is marginalizing them. Finding private land to harvest is becoming harder and harder.
Then there's clear cutting, which they contend opens the door to the devastation of erosion, waste and habitat destruction.

"When the Ministry of Natural Resources surrendered the rights to manage the forests, this responsibility should have been given back to the aboriginal people instead of a partnership of lumber mills." Blais said.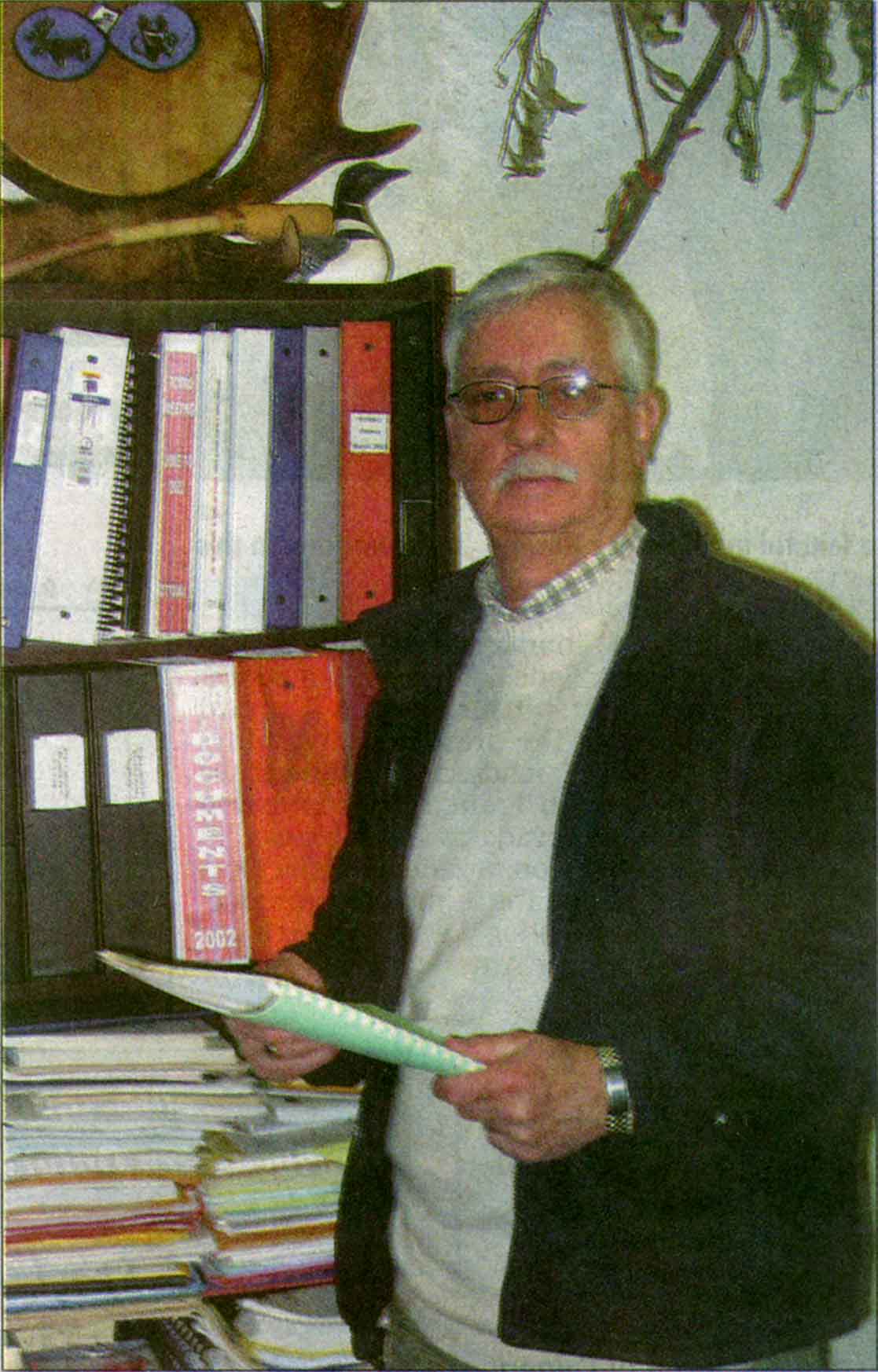 Brent McHale agrees and goes further when he relates the often untold parts of the story.

In his speaking engagements, McHale, who is Metis and provincial councillor for the Metis Nation of Ontario, Region 4 in Sault Ste. Marie, reaffirms his peoples' beliefs that "ownership of the forest should rest with the community as a whole, rather than with industry."

"Our woodlands have a heart and soul," he said. "They are living, breathing entities, and as aboriginal people we're spiritually connected to the land. We feel we know what's best for these natural resources.

"As it stands now, industry has the final say on all aspects of the forestry, and we don't agree with that."

Originally from the Algoma area, McHale lived and worked in southern Ontario for 35 years.

Now retired from Family and Social Services in London Ont., he and his wife have returned to live in Glendale, near Searchmont.

Several years ago, he was approached by a number of Metis loggers from the area, concerned about their livelihood.

"They were frustrated," he said, "because they felt they were being pushed off the land."

At a later meeting, 15 to 20 of them showed up at the Metis Centre in the Sault to discuss options.

"Metis loggers depend on private land owners, who hire them on contract to harvest their woodlots." McHale said.

"And these loggers are small independents that do not have access to Crown land.

"Michel Blais, for one, has had to go all the way to Massey with his equipment to harvest lumber on private land that's been made available to him. Yet he's surrounded by Crown land near his home and he can't access it."

The fledgling group, which would later become known as the Algoma Metis Loggers Inc., was passionate about their Metis bloodlines and the need to be treated fairly in the lumber industry.

"So we incorporated, established a board of directors, developed short and long term goals, objectives and a mission statement," said McHale, who became CEO.

He admits that Metis loggers are at a definite disadvantage. They're small, independent operators, who practice the more time-intensive, selective harvesting method of pruning rather than doing large-scale cutting with feller bunchers, large logging machines with an attachment that cuts trees in place.

"I've seen the damage done to a forest with these machines," McHale said. "The forest floor can't tolerate this mechanical violation."

McHale said the Algoma Metis Loggers Inc. have gone back and forth between MNR and Clergue Forest Management Inc. since the initial meeting three years earlier. CFMI is a co-operative SFL with five partners (lumber mills) and it also holds the Sustainable Forest License (SFL) for Algoma forests.

After all this political posturing, McHale said, "We still can't get a contract on Crown land. I ask this. How can the
license holder be fair when it has a vested interest in the forest along with its partners?"

He sees this as a conflict of interest and wonders who's accountable.

We feel betrayed and frustrated, and McHale said he is truly disappointed with the series of events. He dubs it "the fox in the hen house" scenario.

"All we want is to be able to work on Crown land and the MNR seems to have become reactive instead of proactive." McHale said. "We want to work in our traditional method of logging and manage this valuable resource while remaining sensitive to the environment."

Clear cutting is a disaster. "I'm not saying all operations do this, but it is happening here. It should be a big wake up call."

When asked how Metis loggers would harvest, he described the process.

"Twelve crews of two to three men or women would replace one feller buncher. Our small skidders would cause the least impact, and most importantly, our people would be working and earning a decent living."

McHale is not a logger, but his father was.

"I've traced my Ojibwa roots back to the War of 1812, and we've logged the forests throughout those years." he said.
"It's in the blood, but at no time have the Algoma Metis Loggers Inc. ever said that they have an inherent right to harvest lumber on Crown land.

"We want the opportunity to work. But if we are forced into court, the issue could very well become an assertion of inherent Metis harvesting rights, as opposed to our ongoing and simple request for a level playing field through consultation and negotiation.

"That's all we ask."